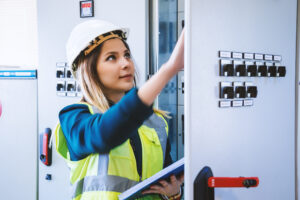 In recent years, the global shift towards renewable energy sources has gained significant momentum. This transition, driven by the need to mitigate climate change and reduce dependence on fossil fuels, has brought about numerous changes across various industries. One notable effect has been the increased demand for skilled professionals, particularly electricians, who play a crucial role in the installation and maintenance of renewable energy systems. The goal of this article is to examine the influence of renewable energy sources on the need for electricians.
Renewable Energy and the Electrician's Role
Renewable energy sources, such as solar, wind, hydro, and geothermal power, have become prominent alternatives to traditional fossil fuel-based energy generation. These sources harness natural elements to produce electricity in an environmentally friendly manner. However, the installation and maintenance of renewable energy systems require specialized knowledge and skills, and this is where electricians come into play.
Installation of Renewable Energy Systems
Electricians play a vital role in the installation of renewable energy systems. Whether it's setting up solar panels on rooftops, connecting wind turbines to the electrical grid, or installing geothermal heat pumps, electricians possess the expertise to ensure that these systems are safely and efficiently integrated into existing electrical infrastructure. As the demand for renewable energy installations continues to rise, so does the need for skilled electricians.
Maintenance and Upkeep
Renewable energy systems also require regular maintenance and upkeep to operate optimally. Electricians are responsible for inspecting and servicing these systems, troubleshooting any electrical issues, and ensuring their continued performance. With the growing number of renewable energy installations worldwide, electricians with specialized knowledge in maintaining these systems have become invaluable assets.
Impact on the Electrician Workforce
The surge in renewable energy has resulted in a significant impact on the demand for electricians. Here are some key observations:
Job Growth
The rise of renewable energy sources has created new employment opportunities for electricians. According to the U.S. Bureau of Labor Statistics, electricians are projected to have a higher employment growth rate compared to other occupations on average. This growth can be attributed, in part, to the increasing demand for electricians with expertise in renewable energy systems.
Skill Diversification
Electricians who adapt their skills to work with renewable energy technologies enjoy a competitive advantage in the job market. By expanding their knowledge to include the installation and maintenance of solar panels, wind turbines, and other renewable energy systems, electricians can tap into the expanding market and secure more opportunities.
Training and Certification
To meet the growing demand for electricians in the renewable energy sector, many vocational and technical training programs now offer specialized courses and certifications in renewable energy technology. These programs equip electricians with the necessary skills and knowledge to work on renewable energy installations, enabling them to stay relevant in the evolving industry.
The rise of renewable energy sources has undeniably impacted the demand for electricians. As the world continues to embrace cleaner and more sustainable energy alternatives, the need for electricians with expertise in renewable energy systems will continue to grow. By adapting their skills and staying updated with the latest technologies, electricians can take advantage of the expanding job market and contribute to the global transition towards a greener future.
Learn more:
What are some common electrical problems that homeowners might encounter, and when should they call an electrician for help?
What safety precautions should an electrician take when working with live wires?